Direct contact with the target group
For the product Haufe Personnel Office Premium, we are developing a mailing with added benefit. Outstanding, high-profile, sales-promoting. The goal is to give the target group a quick and easy overview of the variety of publications, software solutions and issues surrounding the human resources sector. An audio-visual quick-tour takes the user through the media library, the seminar archive and the digital HR magazine. There are excerpts of audio textbooks and podcasts available for listening. Intensive training sessions are presented and direct contact with the editor is possible.
---
A premium and high-profile mailing with added benefit piques the customers' curiosity and makes them want to get more information about the full range of services the product offers. A flyer, a service card and a stereo headset are presented in a square, elegant, matte black box. The teaser "Listen to the variety" prompts the customer to not just look at the many features of the HR software online but to listen to them as well. An audio-visual quick-tour accompanies and guides the customer through the new major topics of personnel management. The "give-away", a premium headset, is branded with the Haufe logo and can be used with all mobile devices. A service card gathers important hotline numbers and contact data into a convenient format.
---
The subtle, matte black, flat and square box piques curiosity. Only the company logo gives away any hint at the contents. Once you open the box, you see the stereo headsets inserted on the left, with the inviting headline between them: "Listen to the variety". On the right, inserted in an interior box, is the square info flyer, and underneath on the bottom of the box the credit card-sized service card.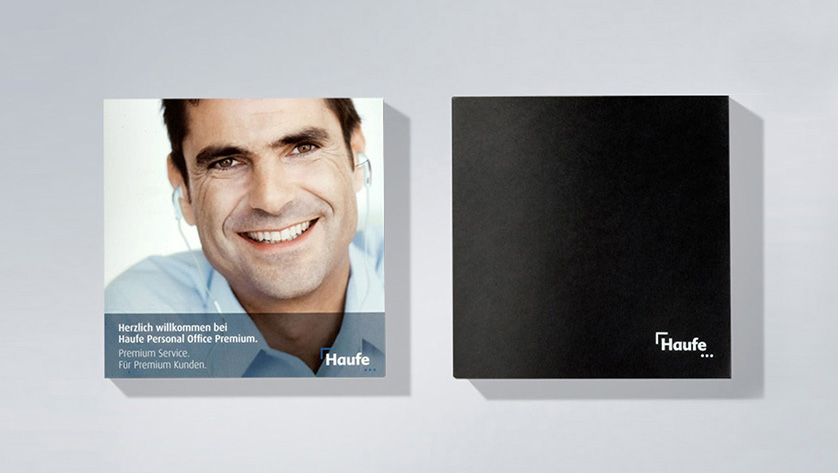 ---